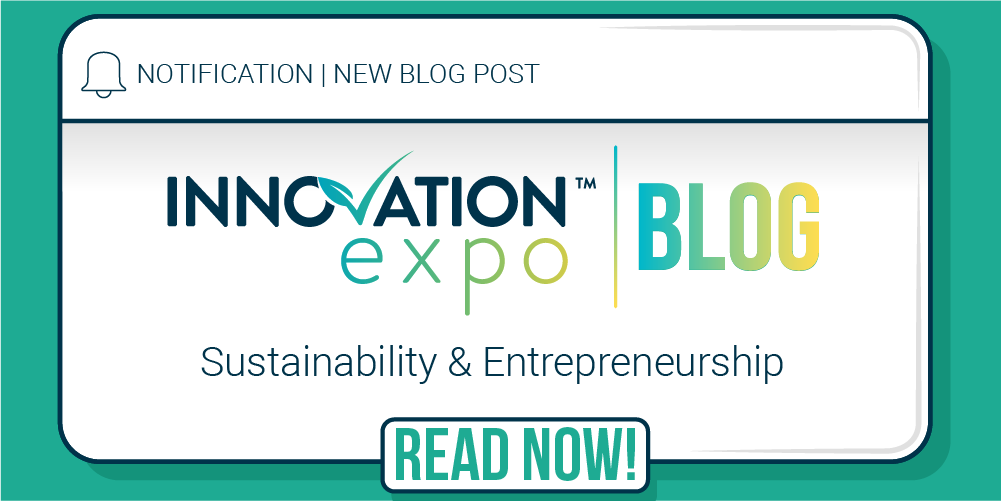 What does sustainability and social responsibility look like for entrepreneurs in 2022? For a world that has survived the coronavirus pandemic and is currently facing the struggles of the climate crisis, it would be fair to say that our perspectives of the future have changed. Not only have concepts of social responsibility and sustainability become more publicly recognized, but as the UN Sustainable Development Goals state, "ending poverty and other deprivations must go hand-in-hand with strategies that improve health and education, reduce inequality, and spur economic growth – all while tackling climate change and working to preserve our oceans and forests." These concepts have also taken on new importance for businesses as they strive to meet these goals. As a result, sustainable and socially responsible businesses are seeing an influx of interest from employees, consumers, and investors.
Innovation Guelph previously asked our mentors about the competitive advantages of being socially responsible which you can read here at We Asked Our Mentors.
But what does being sustainable mean? The Network for Business Sustainability discusses that, for businesses and entrepreneurs, there are three main pillars of sustainability:
Environmental accountability
Social equity
Economic efficiency
Although these pillars can stand alone, they are usually difficult to separate. Leading in social and environmental issues can also help you lead in financial performance. For example, according to some of IG's mentors, there is value in solving big problems. Leaning into solving some of the issues of today can be a great way to grow your funding or develop your customer base. As our mentor, Mark Granskou, says, "the new term is ESG – environmental/social/governance – and investment is exploding in this area."
Influences on Sustainable Thinking
According to the UN Sustainable Development Goals, pandemics tend to serve as catalysts for change. The coronavirus pandemic has been no exception. It required collaboration, innovation, and adaptability, and forced us to think about what sustainability looks like moving forward. It was also a time to examine our current systems and see how we can innovate new solutions – often right within our communities. Not only was the pandemic a catalyst for change worldwide, but it also triggered an outpouring of support for local innovation. Supply chain problems and lack of personal travel meant people were encouraged to look at small businesses and organizations right at home. People also saw struggle within their regions during hard times, and initiatives to invest in communities grew. To see an example of how our clients saw these struggles as opportunities for community development, check out this client feature on Northern Village.
Besides the pandemic, social change and the climate crisis have been two big influences on sustainable thinking in business and innovation in recent years. These issues have shown us that businesses can have a crucial part to play in addressing issues of sustainable development. A shift in focus to a more environmentally conscious and socially responsible public is not only beneficial for businesses strategically – as sustainable products shift from niche markets to the mainstream consumer – it can also be a way to use business for good. Read more about what our IG mentors have to say about targeting niche and/or sustainable markets at another We Asked Our Mentors.
Our Commitment to Sustainability
With our Innovation Expo, we continue to commit to sustainability in our communities through programs supporting socially responsible and environmentally conscious entrepreneurs. The Innovation Expo brings together creation, science, passion, collaboration, and entrepreneurship in a way that values the innovation of today for the sustainability of tomorrow. Our yearly expo is a chance for many of our clients to showcase the ways that they are confronting the sustainability pillars of environmental accountability, social equity, and economic efficiency. The showcase tradeshow delivers new ideas, products, and services to the public. It unites startups and small businesses with investors, encourages partnerships and community collaboration, and allows people the chance to see the innovation occurring in their own backyards.
Past vendors of our expo have showcased sustainable ideas of:
Plant-based and organic food
Circular food economies
Waste reduction clothing systems
Carbon-neutral entrepreneurship
Reducing single-use plastics and takeout items
Precision agriculture technologies and other green/sustainable agri-technology innovations
Awareness and creation of water stewardship and conservation technologies
Transparent sourcing and creation
Giving back to communities through donations to non-profit and charity organizations
Supporting community wellbeing through food, clothing, mental health, and other outreach initiatives
To find out more about last year's innovative vendors check out: https://ontarioinnovationexpo.ca/marketplace/
To register for this year's Innovation Expo visit: https://www.eventbrite.ca/
How Can Businesses Increase Sustainability?
While you wait to see the bright new ideas and enterprises being presented at this year's Innovation Expo, here are some ways that businesses can evaluate and improve their innovations towards sustainability.
Environmentally increased awareness of:

Carbon emissions and carbon footprints
Air, water, and soil pollution
Energy consumption
Planned obsolescence
Waste reduction
Ethical and sustainable sourcing
Possibilities of shifting towards green energies and technologies
Take note of local and community initiatives to help your business's environmental sustainability (reusable take-out containers, recycling food scraps and unused food products, water stewardship programs, sourcing and selling locally, etc.)
Socially increased awareness of:

Diversity within your organization
Supporting community outreach organizations (donating products, proceeds of sales, partnering, and collaborating)
Employee compensation and living wage initiatives
Mental health awareness and support
Fairtrade and ethical sourcing practices
Giving back to global social development programs
Fostering community within your organization
Economic efficiency:

Create economic value through solving problems
Sustainability is resilient and adaptable
Cost-effectiveness of reducing waste and emissions
Employee retention
Engaged community support