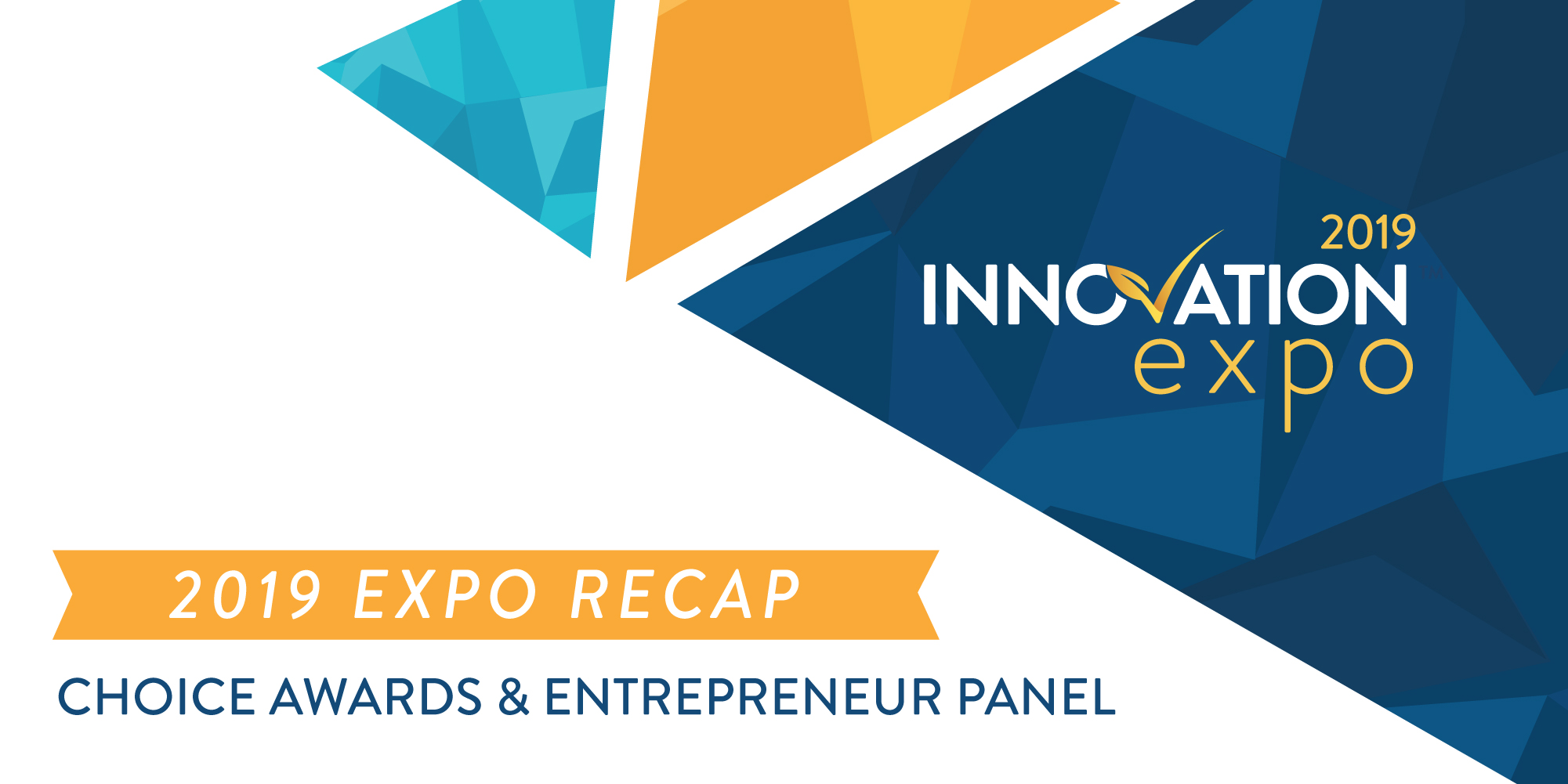 Three innovative companies receive The Choice Awards at the Innovation Expo!
Guelph, ON, October 4, 2019 – For Immediate Release – Together, Innovation Guelph and Bioenterprise Corporation welcomed a large crowd of investors, buyers and interested public at their second Innovation Expo at the Grand Guelph on October 3, 2019.
This exciting event, the largest of its kind in Guelph, and free to the public, celebrates the success and growth of more than 150 recipients collaboratively supported.
Attendees voted for their favourites in three categories, and The Choice Awards award winners are:
---
"The exhibitors are innovative companies who have been supported through Innovation Guelph's Fuel Injection Program and Bioenterprise's Seed Funding Program," said Mickey Campeau, program manager. "Recognition straight from those visiting their booths speaks volumes about the value of this event and the impact these companies are having in southern Ontario!"
In addition to the trade show exhibition, an exclusive VIP special event lunch gathered business leaders and experts from a variety of sectors to discuss the importance of innovation in business. The panel was moderated by Donna Litt, co-founder and COO, Kiite Inc. Panelists included Linda Hasenfratz, CEO, Linamar Corp, Ruben Burga, assistant professor, department of management, University of Guelph, Jess Joss, CEO, the alliance of three Angel Organizations and Scott Mikalachki, innovation discovery leader, 3M Canada Company.
"This diverse industry panel saw enriching and spirited discussion engaging business leaders and entrepreneurs with meaningful, insightful conversation," said Jessica Bowes, VP commercialization, Bioenterprise.
To learn more visit https://ontarioinnovationexpo.ca/ or contact: Mickey Campeau, Program Manager & Event
Co-ordinator at mickey.campeau@innovationguelph.ca, 519-265-4495, extension 105.
-30-
About Innovation Guelph
Innovation Guelph is building prosperity for community well-being by providing mentorship and business support programs and services to help innovative enterprises start, grow and thrive.  Innovation Guelph's business acceleration programs are designed for high-potential start-ups, small to medium-sized enterprises and women-led businesses across southern Ontario. Innovation Guelph also serves as a one-stop point of access to Ontario Network of Entrepreneurs (ONE) programs and resources. www.innovationguelph.ca 
About Bioenterprise Corporation
Bioenterprise Corporation is a national, non-profit, agri-tech commercialization accelerator, providing companies with customized, hands-on business advisory services, industry and technical expertise, and global connections. Bioenterprise collaborates with partners across Canada to help entrepreneurs bring agriculture, agri-food and agri-product innovations to market, increase revenues, attract investment and create jobs.